November 19/20 – NCMP will be open all weekend from 10-5 each day. Clear, sunny forecast all weekend!! The Race track, Intermediate track, Peewee track and Woods Trails will be open!!! Sprocket & Tucker are patiently awaiting to visit everyone!!  We hope to see you!

A Practice, Race and Family Dirt Bike Riding Facility
Open Year-Round, 7 Days A Week (weather permitting) 10am-5pm

North Carolina Motorsports Park is your destination for motorsports and family riding fun! Located in Henderson, North Carolina, NCMP was designed and built by the Czysz family and a group of dedicated dirt riders/racers (the Krusty Krew) as a world-class facility for TWO-WHEELED riders of all levels. Family owned and operated, NCMP's goal is to provide a safe, clean, and fun place to ride and camp for everyone!
NCMP has over 180 acres of rolling wooded terrain which has been transformed into a motorsports park that has something for riders of all skill levels.
OPEN NOW:  WOODS TRAILS including a peewee beginner woods loop, kids peewee mx track, 3/4 mile Intermediate track, 1.75 mi advanced AMA Race track and SX track opening back up SOON!
From pee-wee to to the advanced off-roader, NCMP offers something for everyone: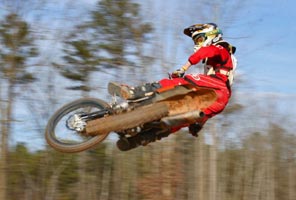 1-3/4 Mile MX Race Track
1 Mile MX Novice/Intermediate Track
Pee-Wee MX Track
SX Style Track  (Re-Opening SOON)
Miles of Wooded Trails, including peewee beginner loop
North Carolina Motorsports Park is located in Henderson, North Carolina, just 45 minutes north of Raleigh / Durham and just 10 miles north of Louisburg. We are open 7 days a week from 10am to 5pm.