NCMP ANNOUNCEMENTS: 
MARK YOUR CALENDAR'S!!!  Labor Day Weekend 2018
North Carolina Motorsports Park announced the inaugural "Carolina Motofest," set to take place on Labor Day weekend. This AMA-sanctioned event, held from Friday, August 31 – Monday, September 3, will set a new standard for fun racing. Carolina MotoFest will be the only event in the U.S. to feature Grand Prix motocross, Sprint Enduro, and EnduroCross* in an exciting three-day weekend.
Let's See Who Is The Best At Motofest!!!
Click Motofest Tab – top right for more info!!  Weekend itinerary, faq's, supplemental rules & online registration info coming soon!!
******************************************************************************************************************
Moonlight Madness SX Series Celebration & Ride Day 
** FEBRUARY 18th – (1:15 Lunch, 2pm Awards)**

Come join the fun at NCMP!!  Congratulations to all the riders that attended enough races to receive awards in the 2017 Kenda Tires / Brewer Cycles Moonlight Madness SX Series. Final Point Standings can be viewed under our RACING Tab on the homepage.
The North Carolina Motorsports Park,  Kenda Tires, Brewer Cycles, Christian Motorcyclist Association, Mitchell Heating and Air, VZF Racing and More will put on a fun filled day of riding, eating and hanging out with good friends. Practices will be split between big bikes and little bikes & ATVs. We will have lunch at 1:15. It will be a spread of fried chicken, barbecue sandwiches, & sides. Tickets for a meal will cost $10 for an adult and 5$ for kids eight years old and under. At 2 o'clock we will stop all the riding and give away the awards and then go back to riding immediately afterwards until 5 o'clock or so.  Any rider qualifying for awards will ride free for the day. Anyone else is welcome to join the fun for the normal rate and join us for lunch. Please email ncmp@ncmp.net if you plan to attend to confirm with number of attendees. Thanks again and we hope to see you there!!  Stay tuned for the announcement of our 2018 Series dates and info!
A Practice, Race and Family Dirt Bike Riding Facility
Open Year-Round, 7 Days a week (weather permitting) 10am-5pm

North Carolina Motorsports Park is your destination for motorsports and family riding fun! Located in Henderson, North Carolina, NCMP was designed and built by the Czysz family and a group of dedicated dirt riders/racers (the Krusty Krew) as a world-class facility for TWO-WHEELED riders of all levels. Family owned and operated, NCMP's goal is to provide a safe, clean, and fun place to ride and camp for everyone!  (women & youth ATV riders only allowed on Intermediate and beginner track)
NCMP has over 180 acres of rolling wooded terrain which has been transformed into a motorsports park that has something for riders of all skill levels.
OPEN NOW:  WOODS TRAILS including a peewee beginner woods loop, kids peewee mx track, 3/4 mile Intermediate track, 1.75 mi advanced AMA Race track and NEW SX Track!!!
From pee-wee to to the advanced off-roader, NCMP offers something for everyone: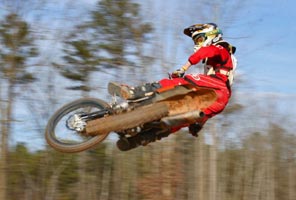 1-3/4 Mile MX Race Track
1 Mile MX Novice/Intermediate Track
Pee-Wee MX Track
SX Style Track
Miles of Wooded Trails, including peewee beginner loop
North Carolina Motorsports Park is located in Henderson, North Carolina, just 45 minutes north of Raleigh / Durham and just 10 miles north of Louisburg. We are open 7 days a week from 10am to 5pm.