A Practice, Race and Family Dirt Bike Riding Facility
Open Year-Round, Seven Days Per Week From 10am To 5pm
North Carolina Motorsports Park is your destination for motorsports and family riding fun! Located in Henderson, North Carolina, NCMP was designed and built by the Czysz family and a group of dedicated dirt riders/racers (the Krusty Krew) as a world-class facility for two-wheeled riders of all levels. Family owned and operated, NCMP's goal is to provide a safe, clean, and fun place to ride and camp for everyone!
NCMP has over 230 acres of rolling wooded terrain which has been transformed into a motorsports park that has something for riders of all skill levels. Along with our five motocross, supercross and TT tracks, NCMP has nearly 120 acres dedicated to woods trails ranging from wide-open 2-track to expert single track. From pee-wee to to the advanced off-roader, NCMP offers something for everyone: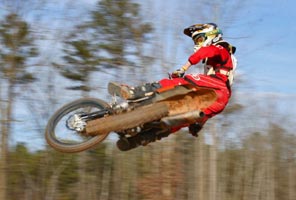 1-3/4 Mile MX Race Track
1 Mile MX Novice/Intermediate Track
1/2 Mile TT Track
Pee-Wee MX Track
'Nite-X' Supercross Track
Miles of Wooded Single and Two-Track Trails
North Carolina Motorsports Park is located in Henderson, North Carolina, just 45 minutes north of Raleigh / Durham and just 10 miles north of Louisburg. We are open 7 days a week from 10am to 5pm.