NCMP ANNOUNCEMENTS: 
NEXT NIGHT RACE:  RD 7 – SEPTEMBER 23rd



**WE ARE RESUMING OUR NORMAL 7 DAY A WEEK, WEATHER PERMITTING SCHEDULE**
10 am – 5pm daily

Remaining Moonlight Madness Race Dates: 
June 3     July 15,   July 22,   Aug 12,   Aug 19,   Sept 2,   Sept 23,   Oct 7,   Oct 21,   Nov 11
Classes for all ages, beginner level to Pro!!!  Friday Night SX practices before each round
A Practice, Race and Family Dirt Bike Riding Facility
Open Year-Round, Fri, Sat, Sun, Mon (weather permitting) 10am-5pm

North Carolina Motorsports Park is your destination for motorsports and family riding fun! Located in Henderson, North Carolina, NCMP was designed and built by the Czysz family and a group of dedicated dirt riders/racers (the Krusty Krew) as a world-class facility for TWO-WHEELED riders of all levels. Family owned and operated, NCMP's goal is to provide a safe, clean, and fun place to ride and camp for everyone!  (women & youth ATV riders only allowed on Intermediate and beginner track)
NCMP has over 180 acres of rolling wooded terrain which has been transformed into a motorsports park that has something for riders of all skill levels.
OPEN NOW:  WOODS TRAILS including a peewee beginner woods loop, kids peewee mx track, 3/4 mile Intermediate track, 1.75 mi advanced AMA Race track and NEW SX Track!!!
From pee-wee to to the advanced off-roader, NCMP offers something for everyone: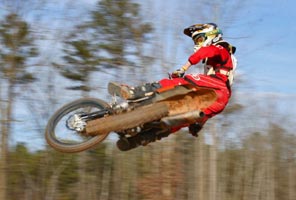 1-3/4 Mile MX Race Track
1 Mile MX Novice/Intermediate Track
Pee-Wee MX Track
SX Style Track
Miles of Wooded Trails, including peewee beginner loop
North Carolina Motorsports Park is located in Henderson, North Carolina, just 45 minutes north of Raleigh / Durham and just 10 miles north of Louisburg. We are open 7 days a week from 10am to 5pm.