NCMP ANNOUNCEMENTS:
We are closed Thurs & Friday (Mar 26/27) and will be open for practice on Saturday & Sunday March 28/29 – 10am

***MARCH ANNOUNCEMENTS: The Mar. 21/22 MX Race & Mar. 28/29 Sprint Enduro races have been postponed at this time.  We will update as soon as we can regarding possible reschedule dates.  At this time, we are open for regular practice only, weather permitting.  We appreciate everyone's understanding & patience and hope to see you all soon, riding your dirtbikes for some moto-therapy!!

**PRICE CHANGE:  EFFECTIVE MARCH 7, 2020 there will be a $5 spectator charge for all non-riders 8 and up at NCMP on regular practice days.  We are dedicated to making NCMP better and we are making the final push to finish the park, build our bath house, have bike wash stations, work on erosion control and overall improvements everywhere.  We hope you understand and will support NCMP's future.  We are "Here For A Reason, & Not Just A Season!"
**ATV POLICY – CALL BEFORE YOU HAUL – We will have select days where AMA ATV RACERS can practice on our race track / sx track.  Only women & youth are allowed on our Intermediate track when conditions allow & only youth 50cc atv's are allowed on peewee track (beginners only).  Our trails are dirtbike only trails.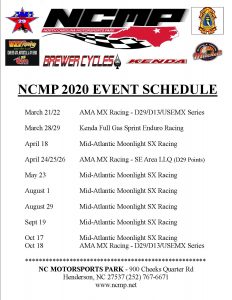 REGISTER NOW FOR THE FULL GAS SPRINT ENDURO AT NCMP!!!  March 28/29
For all info: https://www.sprintenduro.com/
What is a sprint enduro?

Picture the sweetest, best flowing grass track you've ever ridden combined with some great, wide, fast trails, and you holding it full gas (Euro slang for wide open) for 6-10 minutes around the track trying to do a lap as quick as possible. This is enduro racing, so you're racing against the clock not head-to-head against other riders.
Okay, that description didn't make any sense to me, can you try and explain this to me one more time?
Riders will race two "special tests" 3 times each, for  total of 6 tests a day. One special test will be a 2-3 mile "cross test" consisting of nearly 100% grass track and/or motocross track. The other will be an "enduro test" featuring wide, flowing, groomed trails and will be 3-4 miles. Riders will take off in 15-second intervals.
---
We are proud to once again announce we will be hosting a Loretta Lynn's SE Area Qualifier Championship MX Race April 24/25/26 2020!!  Mark your calendars!!




"An Offroad Park for Dirtbikes – Built for riders, by riders!"



WE OFFER 4 TRACKS FOR DIRTBIKES: Peewee, Intermediate, SX Style Night Track, Adv. AMA Race Track & Miles of Woods Trails for dirtbikes!!!  We also have a new Endurocross course for the XC enthusiasts to check out and train on!!
RV Hookups, Primitive Camping, Acres of parking and several tracks + trails for EVERY skill level!
KENDA TIRES – The Official Tire of NCMP!!
The North Carolina Motorsports Park is proud to announce that KENDA TIRES is on board as the official tire again for 2019!!!!
Kenda Tires has been a leader in the industry and major supporter of off road motorsports for many years. We, at NCMP are thankful for their support and give back 100% of it to the riders and families.
Try their tires if you haven't and see for yourself that they have a tire designed for your adventure! I love my triple sticky's! #kendatires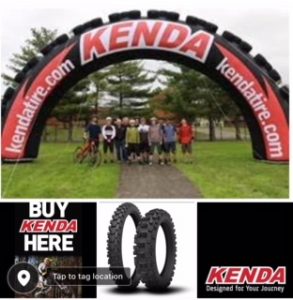 ****************************************************************************************************************************
A Practice, Race and Family Dirt Bike Riding Facility
Open Year-Round, 7 Days a week (weather permitting) 10am-5pm

North Carolina Motorsports Park is your destination for motorsports and family riding fun! Located in Henderson, North Carolina, NCMP was designed and built by the Czysz family and a group of dedicated dirt riders/racers (the Krusty Krew) as a world-class facility for TWO-WHEELED riders of all levels. Family owned and operated, NCMP's goal is to provide a safe, clean, and fun place to ride and camp for everyone!  (women & youth ATV riders only allowed on Intermediate and beginner track)
NCMP has over 180 acres of rolling wooded terrain which has been transformed into a motorsports park that has something for riders of all skill levels.
OPEN NOW:  WOODS TRAILS including a peewee beginner woods loop, kids peewee mx track, 3/4 mile Intermediate track, 1.75 mi advanced AMA Race track and NEW SX Track!!!
From pee-wee to to the advanced off-roader, NCMP offers something for everyone: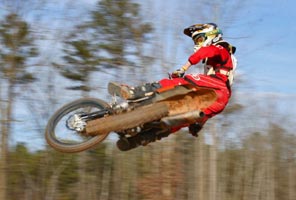 1-3/4 Mile MX Race Track
1 Mile MX Novice/Intermediate Track
Pee-Wee MX Track
SX Style Track
Miles of Wooded Trails, including peewee beginner loop
North Carolina Motorsports Park is located in Henderson, North Carolina, just 45 minutes north of Raleigh / Durham and just 10 miles north of Louisburg. We are open 7 days a week from 10am to 5pm.