NCMP ANNOUNCEMENTS: 
NCMP Weekend Update (7/21,7/22): We will be open both days at 10am – unfortunately all tracks will be "as-is" this weekend due to equipment issues. Our Water truck cannot be repaired until Monday and our irrigation system is down for maintenance. We hope to see a few weekend warriors who will enjoy some seat time regardless on the tracks + trails and perhaps Mother Nature will bless us with a little bit of rain!!

For you racers, don't forget that Lake Sugar Tree is racing Saturday night, Round 8 of the Moonlight Madness MX Series, good luck and be safe!!
Moonlight Madness MX Racing August 18th
Mark your calendars!!  RD 10 – August 10th at NCMP!!  Saturday Nights Under The Lights is back!!!  All day open practice on all of NCMP's other tracks, Night Racing Signup opens at 3pm, Practice at 5 pm & Racing begins about 6:30pm.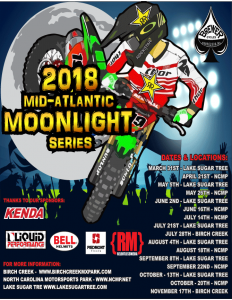 ***********************************************************************************************************************
MARK YOUR CALENDAR'S!!!  Labor Day Weekend 2018
North Carolina Motorsports Park announced the inaugural "Carolina Motofest," set to take place on Labor Day weekend. This AMA-sanctioned event, held from Friday, August 31 – Monday, September 3, will set a new standard for fun racing. Carolina MotoFest will be the only event in the U.S. to feature Grand Prix motocross, Sprint Enduro, and EnduroCross* in an exciting three-day weekend.
Let's See Who Is The Best At Motofest!!!
Click Motofest Tab – top right for more info!!  Weekend itinerary, faq's, supplemental rules & online registration info coming soon!!
 ************************************************************************************************************************
A Practice, Race and Family Dirt Bike Riding Facility
Open Year-Round, 7 Days a week (weather permitting) 10am-5pm

North Carolina Motorsports Park is your destination for motorsports and family riding fun! Located in Henderson, North Carolina, NCMP was designed and built by the Czysz family and a group of dedicated dirt riders/racers (the Krusty Krew) as a world-class facility for TWO-WHEELED riders of all levels. Family owned and operated, NCMP's goal is to provide a safe, clean, and fun place to ride and camp for everyone!  (women & youth ATV riders only allowed on Intermediate and beginner track)
NCMP has over 180 acres of rolling wooded terrain which has been transformed into a motorsports park that has something for riders of all skill levels.
OPEN NOW:  WOODS TRAILS including a peewee beginner woods loop, kids peewee mx track, 3/4 mile Intermediate track, 1.75 mi advanced AMA Race track and NEW SX Track!!!
From pee-wee to to the advanced off-roader, NCMP offers something for everyone: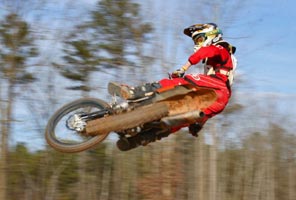 1-3/4 Mile MX Race Track
1 Mile MX Novice/Intermediate Track
Pee-Wee MX Track
SX Style Track
Miles of Wooded Trails, including peewee beginner loop
North Carolina Motorsports Park is located in Henderson, North Carolina, just 45 minutes north of Raleigh / Durham and just 10 miles north of Louisburg. We are open 7 days a week from 10am to 5pm.